Overlay Tool for Logitech Craft
The Overlay Tool, is a tool to hide/un-hide the overlay from Logitech Craft.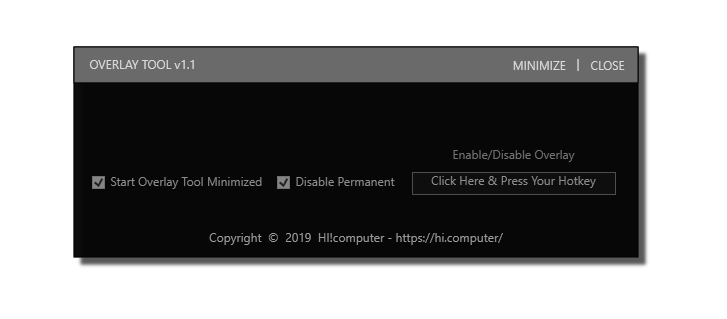 Just download the zip file, extract the program and place where you want (example: your desktop), run the software,  as you can see not require an installation, is  just a portable app.
Set your custom hotkey, what will be used later to enable or disable the Craft overlay.
Click on the text box, press your desired hotkey, then just select the check box "Start Overlay Tool Minimized", minimize the tool.
That is all!!
Every time you press your custom hotkey you can disable or enable the Craft overlay.
When you close the Overlay Tool, the Craft overlay back to work as usual.
If you want automatic and permanent kill the overlay, just select  "Start Overlay Tool Minimized"  and  "Disable Permanent"
Every time the software start, kill the overlay and then auto-close after 10 seconds.
You can setup a shortcut in the start menu if want the Overlay Tool start alone on OS startup.
If want back all to normal or back to work with Hotkeys, just open the Overlay Tool and deselect Disable Permanent, close the software.
Note:  This tool not run on 32bits MS Windows.
Support me on Patreon:
https://www.patreon.com/savethehuman5
Subscribe to my Youtube channel:
https://www.youtube.com/channel/UCWYvWnUfJcy-uuonfOP6Rqg
Useful for you?
Don't forget leave your comments in the open area of the forum for non registered users.